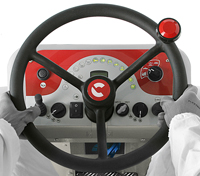 Intuitive driving, thanks to the new and fine instrument panel of automotive conception and to the working program selector allowing to chose the most suitable cleaning operation according to real needs.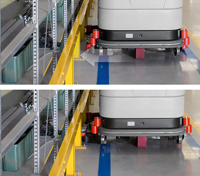 The scrubbing unit is equipped with two contra-rotating brushes and can laterally come out up to 15 cm (Ultra 120 B version) thanks to a handy joystick and reach dirt along walls or under shelves to convey it in the centre where it will be collected by the central brushes. In this way, machine stops for manual operations are avoided.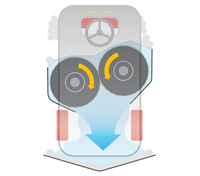 "V" shaped splash guards system has been designed to convey the detergent solution into the central area, guaranteeing in this way perfect drying even on bends with a compact dimensions squeegee.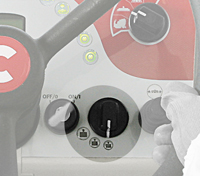 Brushes pressure can be manually adjusted according to the type of dirt, choosing among three levels, 133 Kg, 150 Kg and 168 Kg, and can be easily controlled thanks to a manual selector on the instrument panel.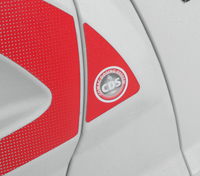 Thanks to CDS dosing system it is possible to dose separately water and detergent flow according to the type of dirt and save up to 50% of detergent solution.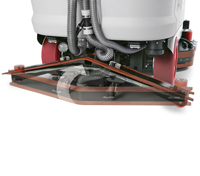 Comac designed a system that allows the operator to rotate the squeegee till reaching the horizontal position. In this way squeegee rubber blades can be perfectly cleaned guaranteeing an excellent drying (Ultra 120 B/G)