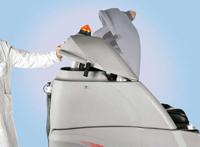 The Flexy scrubbing machine has a new low-noise suction system which has been specially designed by Comac.
The suction motor is enclosed inside a double-insulated chamber.
This allows a drastic noise reduction and the operator can work with greater acoustic comfort especially in noise-sensitive environments (nursing homes, hospitals, etc.)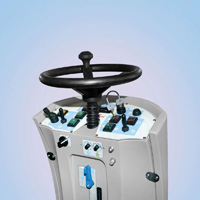 Brush pressure is regulated by the control on the instrument panel (version B) from 50 to 100 kg to deal with maintenance or deep-down dirt.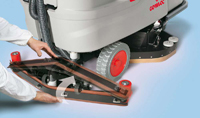 Thanks to a system developed by Comac, the squeegee can be rotated by the operator till reaching the horizontal position. This ensures a perfect cleaning of the squeegee rubbers and an excellent constant drying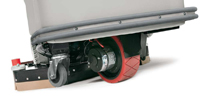 The standard front driving wheel is slip-proof and leaves no traces, so work can even be carried out on a wet floor, with no risks. The smooth steering and the tight steering radius make driving easy in narrow spaces such as gangways, corridors and production lines